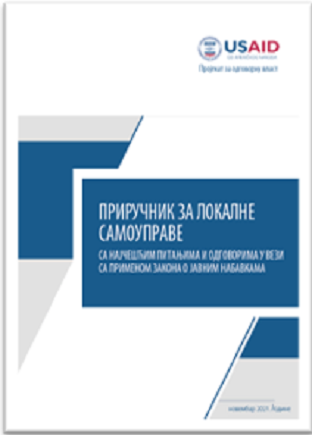 USAID GAI Published a Handbook for Local Self-Governments – Frequently Asked Questions and Answers about the Implementation of the Public Procurement Law
USAID GAI has published a Handbook for Local Self-Governments written in the form of frequently asked questions and answers about the implementation of the Public Procurement Law. The Handbook contains questions and answers that were brought up and discussed during the public procurement trainings organized by the GAI in the period from June to September 2021 for representatives of local self-government and local public enterprises and institutions. Procurement trainings were held by Saša Varinac and Aleksandra Litričin.
This publication includes more than 80 questions and answers from practice, divided into four areas, i.e. four stages of public procurement implementation: planning, implementation, execution of contracts, and protection of rights in public procurement procedures. The Handbook was distributed to all local self-government and we expect that it will significantly contribute to better understanding and more efficient implementation of public procurement procedures at the local level, which are conducted according to the 2019 Public Procurement Law.
Handbook available at (in Serbian): https://www.odgovornavlast.rs/wp-content/uploads/2021/11/USAID-GAI-Prirucnik-za-JLS-najcesce-postavljana-pitanja-o-javnim-nabavkama-2021-1.pdf
Latest Posts
by Mladen Milivojcevic
Aleksandra Litričin gives lectures at Public Finance Counselling Kopaonik Resort organized by Serbia's Public Finance Office
by Mladen Milivojcevic
Aleksandra Litričin and Saša Varinac conducted online trainings for bidders in organization of USAID GAI and the Serbian Bidders Association
by Mladen Milivojcevic
Aleksandra Litricin - presentation at the final conference "Public Procurement in Serbia: Lessons, Messages and Key Findings" organized by CPES and the...